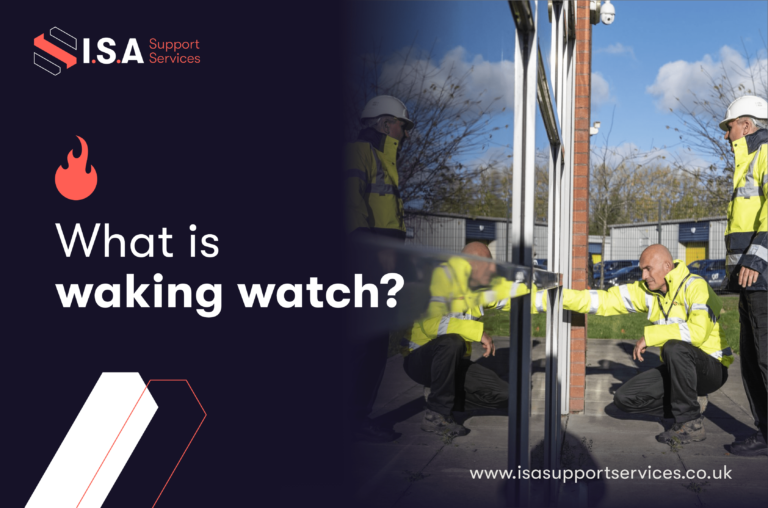 What is waking watch?
23rd March 2022
In an ever-changing world, one thing that always stays constant is the benefit of being prepared. If your business or property is in need of a waking watch for safety reasons or peace of mind, our services provide the perfect solution. But what exactly is it? As fully-trained experts with a number of years in the industry, our services are second to none. We've put together a complete guide on what exactly having a waking watch means and how it could benefit both you and your residents.
What does the term waking watch mean?
Waking watch is a service provided by a number of security companies to provide early warning of hazards and peace of mind to those who own and reside in the properties protected by the service. The term means that a person or persons are present to monitor all, or part of, a building at all times for signs of fire and to raise the alert if any are found. In the case of an apartment block, this would involve an individual or individuals patrolling all floors and the exterior perimeter of the building at all times. The team can support an existing fire safety strategy as well as work alongside the emergency services to keep residents and owners informed.
Do I need this type of patrol service?
With some types of buildings, such as apartment blocks, this type of fire warning system has become more commonplace, particularly in those buildings with cladding fitted. Whilst many cladded buildings have been amended to fit updated safety standards, many high-rise buildings are still fitted with unsafe cladding that can be a potential fire risk. A waking watch service can monitor your building at all times for signs of fire, raise the alarm if signs of a fire are found and manage evacuation procedures should these be needed.
This service is particularly useful in combination with an existing fire alert system to fully support and protect the building and adhere to building safety regulations. Our professional support team will work with you and your existing team members to ensure a workable fire alert and action plan is in place, should the worst happen.
In the wake of the Grenfell Tower fire tragedy, many organisations are now demanding better and more organised fire alert systems to ensure swift action should any instances of fire occur. Waking watch not only provides organised action in the case of a fire-related incident, but it can also help give those living and working in your premises peace of mind.
If your building is at risk of fire or has existing fire safety issues, waking watch could be required to safeguard your residents with building owners required to ensure their buildings and those who live inside them are safe. If your building is over 18 metres in height and has been found to have an unsafe cladding or fireproofing system, a waking watch service could be an essential and valuable part of your building's fire safety procedures. At I.S.A, we know that high standards are integral to everything we do. If you have had previous experience with an unreliable waking watch, contact our team to discuss our all-encompassing services.
If you are considering employing a waking watch service, you may be wondering how much it costs. Waking watch fire safety services can be accessible and affordable to most businesses or organisations with a range of costs depending on a number of factors and the needs of those who are considering it as a service.
The costs of waking watch services will, of course, depend on the security service you will be employing. The cost will also depend on things such as the size of the area that you would like patrolled, it will also depend on the amount of time the fire patrol will need to be making the rounds. If you will need more than one waking watch patrolling your property, for example with larger buildings, this will also affect the price of your quote. If you have any questions on the costs of a waking watch service, please contact our team now to discuss your options.
Waking watch services from I.S.A Support Services
Whatever your business or premises needs, our highly qualified and SIA licensed officers are trained to protect your premises and the people within them allowing you complete peace of mind. Our commercial and residential waking watch services provide dedicated and reliable fire watch services you can depend on from a company you can trust. Our all-encompassing support services can enable you to meet strict safety standards with a professional and reliable waking watch service that is competitive on price and knowledgeable of all current safety standards and procedures.
Call our professional team now on 03301 071 300 or contact us online to find out more about waking watch and other services we provide.