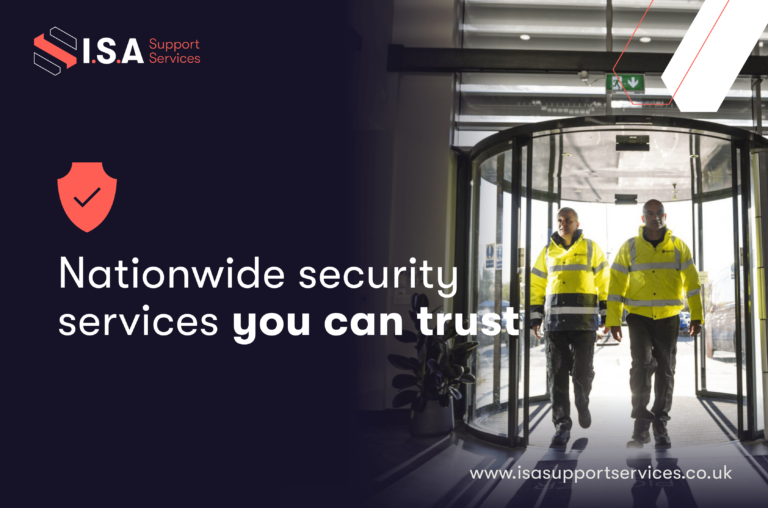 Nationwide security services you can trust
5th April 2022
When it comes to finding trustworthy and experienced support services for your business or premises, it is important to find a name you trust. With dedicated support staff across the UK, I.S.A Support services are committed to providing professional and reliable support and security services nationwide.
Nationwide support services
From our base in Birmingham, we provide support across the UK with remote teams located in every part of the country, ready to help your business succeed. We take the time to ensure each and every one of our national security and support staff is fully trained to handle any eventuality. We've provided support services across the healthcare, events, retail, education and defense sectors and always take the time to learn the particular nuances of each industry to ensure our team is prepared.
Trusted security services across the UK
Wherever your business or event is based in the UK, we can have a dedicated team on-site ready to provide experienced and professional security services. Our team has access to complete support with a 24/7 help desk to ensure every situation is handled quickly and efficiently.
A wide range of UK support services
Whatever your business needs support with, our fully-trained team is here to help. We provide a range of services from CCTV and remote monitoring services and mobile patrols to professional front of house and reception services. We also provide estate services to ensure the smooth-running of properties from grounds maintenance to cleaning services. We can provide short to medium-term contracts across a range of sectors to help support the day-to-day running of your business.
Comprehensive security services
Whether you are looking for physical security staff in Lancashire or keyholding and mobile patrols in Surrey, our UK-wide security is here to help. All of our security staff are SIA-licensed, fully-trained and uniformed with security assistance available 365 days a year. Our local hubs across the UK can provide security across the country and a 24/7 helpdesk to ensure complete peace of mind. Our CCTV and remote monitoring systems provide complete round-the-clock surveillance with a team of vigilant staff providing premium care and attention.
Wherever you are in the UK, I.S.A Support Services can provide regular patrols or ad-hoc services including security dogs with handlers trained and approved to National Association of Security Dog Users (NASDU) standards.
Manchester security services
From our branch in Manchester, we are able to provide a comprehensive range of North West security services and more. Our support services service a number of businesses across Lancashire and Cheshire providing reception services, mobile patrols, event security and more to help businesses across the north of England provide an exemplary service to their customers and clients. We've become a leading name among security companies in Manchester for reliability and dedicated resources.
Birmingham security services
Our main base sits in the heart of the Midlands servicing Birmingham and central England and beyond with a range of comprehensive support services. We've built up a solid reputation over the years for providing timely and cost-effective support solutions across the UK allowing us to expand our reach, providing professional support services in the Midlands and beyond.
London security services
For those looking for security services in London and the South East, our team of fully-trained and professional security personnel at our London base are ready and waiting to help. We offer a variety of support services in London and the surrounding areas with mobile patrols, alarm response assistance and more from experienced security professionals.
Professional front of house and reception services
In addition to our professional security services, we also provide dedicated reception and front of house assistance across the UK. We know how important it is to have a friendly and professional face to greet customers, clients and the public and provide experienced, knowledgeable staff to fill your concierge, receptionist and front-of-house needs. Our UK-wide front of house assistance can work alongside our security teams or independently.
Experienced estate services
From window cleaning to general maintenance, our professional estate services are available across the country, no matter what size property you manage. Our staff undertake regular Covid-safe deep cleaning of premises and can provide car parking and grounds maintenance from Liverpool to London and across the UK on a full-time, part-time or occasional maintenance basis.
UK personnel services
If your business is in need of additional resourcing, we may be able to help. From seasonal workers to responding to local emergencies and major contract wins, we can provide nationwide multi-skilled operatives and help desk staff, mailroom assistants, paramedic resourcing and more on a completely bespoke basis. Our regional teams are here to help with a trained, experienced staff base.
Contact I.S.A Support Services for nationwide support
Wherever you are based in the UK, our support professionals are here to help. Whether you are looking for UK security assistance or personnel support and estate services, we can put together a bespoke package to fit your needs with 24/7 support available.
Contact I.S.A Support Services now online or by calling our team on 03301 071 300 to find out more.