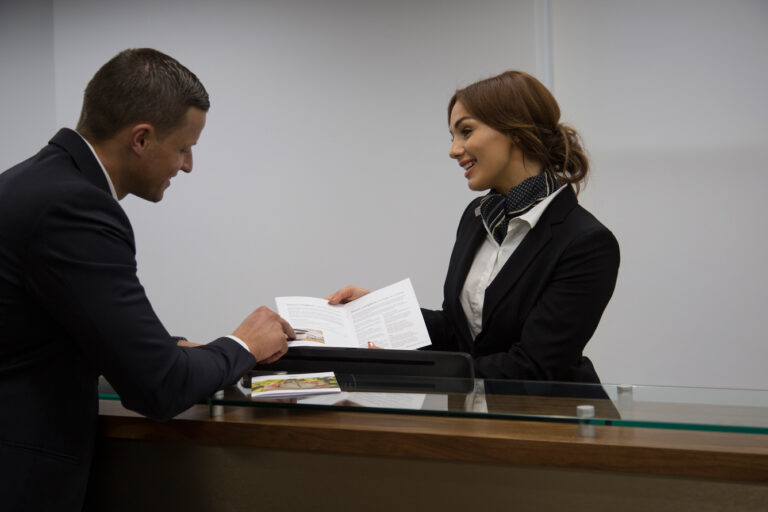 Front of House Services from ISA
17th October 2022
Are you looking for reliable reception personnel that can cater for your business' unique needs and are fully-trained to deal with any challenges? ISA Support Services provides a range of front-of-house services from concierge services to reception staff to businesses nationwide with dedicated support for every sector and fully-qualified personnel. We explain more about what our front of house services include below.
Professional Concierge Services
Our team of experienced concierge staff are here to assist with your front of house needs. If you manage any type of multi-tenant property such as a hotel or apartment building, our team of concierge personnel are available to save you time and resources. Our concierge staffing solutions are backed by a 24/7 helpdesk to ensure complete management and support at all times. We provide a fully-managed cost-effective concierge service for your business or property with professional staff ready and waiting to greet residents and handle any problems that may arise.
Our firm but friendly team are trained to protect your facility and clients whilst following strict protocols to ensure a high level of service every time. Our hotel concierge and other concierge services work seamlessly with our other reception service or can be provided as a standalone service.
Personal Concierge Service
If you are a private client looking for a personal concierge or working on behalf of clients who require personal concierge services, our unique service is here to help. Our fully-qualified and trained concierge staff can manage errands and requests of private clients with full support from a team of experts at all times to allow for an unbeatable depth of service.
Reliable Reception Services
One of our key front-of-house services is our reception services and reception personnel supply. Often, the first experience a client has of a business is through the greeting of a receptionist. Our team of experienced reception staff are trained to create a professional image at all times and provide a friendly face for your business or property. By outsourcing your reception services to ISA, you'll gain qualified and fully-trained reception teams that provide the best welcome and can direct enquiries to the correct contact.
ISA Support Services provides dedicated reception services that work seamlessly with remote monitoring and CCTV Services to protect your premises whilst providing an approachable face for your property.
Dedicated Front of House Services You Can Rely On
By working with ISA Support Services, you'll gain access to a wide portfolio of front of house services from remote monitoring to reception services to personal concierges, security and more. Our front of house team can act as a visual presence for your business and work seamlessly with any existing systems including receiving guests and escorting them to the correct destinations. We take the time to learn about your business to ensure we can meet the demands of any front of house needs and solve customer queries with ease. All of our front of house personnel are backed by a 24/7 helpdesk with contracts available on a full-time or part-time basis as well as temporary contracts to fulfil your short-term front of house service needs. 
Professional Front of House Services from ISA Support Services
Our front of house team are trained in conflict management and providing a personable service. To find out more about our front of house services including reception services, concierge services and more contact our team now online or by calling 03301 071 300. We can create a front of house solution to fit your needs and have worked within a range of industries to create a bespoke service that can be relied on.